07 Mar 2013 Leave a comment
by bellewoods in Asian American Women, Politics Tags: Judy Chu, Mazie Hirono, violence against women act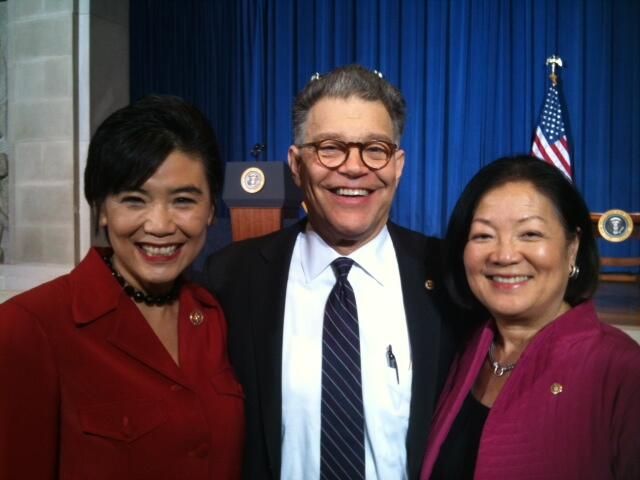 at the President's signing of reauthorizing the Violence Against Women Act
15 Feb 2013 Leave a comment
We support family unity and reducing immigration backlogs. Families should not be divided across continents when we know that our society benefits by keeping them together. We are a nation of laws and a nation of immigrants, and it is time for us to reconcile these facts with a workable process for people who want to move here. These people share the same aspirations as past generations of newcomers who helped build this country. Their spirit and talent is not a threat to our nation's prosperity – if anything, it's been the secret to our success. And as our nation has benefited from diversity, so too will our immigration debate. Asian Americans and Pacific Islanders bring a unique perspective to this discussion, and without our input, the next stage in this great American experiment will be incomplete.
Judy Chu and Michael Honda, House Representatives of California on Immigration Reform and the important need to recognize Asian and Pacific Americans be part of the conversation. Great article, I'm glad Judy Chu is taking leadership on bringing more voices to immigration reform!
Congressional Asian Pacific American Caucus
Read full blog on The Hill
Quote by bellewoods
02 Dec 2012 Leave a comment
by bellewoods in Asian American Women, Politics Tags: congress, grace meng, House of Representatives, Judy Chu, tammy duckworth
Having the first Asian American woman, Mazie Hirano elected to the U.S. senate along with four other Asian American women (Grace Meng, Tammy Duckworth, Tulsi Gabbard and Judy Chu) to the U.S. House of Representatives definitely contains historic significance.  According to the Examiner, this is the largest Asian Pacific American delegation to Congress. This delegation definitely changes the way society may view Asian American women. As I mentioned in a previous blog, Asian American women are often perceived as the quiet hard worker who does what she is told to do and works mostly in the background and does not speak up or take leadership. According to the 2010 report on Federal Higher Education Policy Priorities and the Asian American and Pacific Islander Community produced by the National Commission on Asian American and Pacific Islander Research in Education, AAPIs only made up 6.2% of all employees in federal agencies and only 2.3% of senior executives. Moreover, AAPIs only comprised 5.8% of permanent occupations at the Department of Defense and AAPIs hold only 1.5% of all Board seats of Fortune 500 companies.
                While this delegation is small compared to the still white majority delegation, this delegation plays a significant part changing the overall picture of Congress. Mazie Hirano's election adds to the historic representation of 19 women in the Senate. Duckworth, Meng, Chu and Gabbard are part of a historic Democratic delegation to the House where women and minorities will take up a majority of house seats. And these women are not going to Washington to just be silent team players. They are going to be major social changers and leaders in terms of policies lending their voices on major issues and do some serious business in Congress.   Moreover, these women have some badass backgrounds and amazing achievements to their names.
 Coming from the New York state assembly, Grace Meng , representing Queens, is a daughter immigrant parents from Taiwan. Being the only Asian American in the NY state assembly, she had to reach across the aisle to get things done. Going to Congress, she plans to improve transportation and create jobs for Queens. 
Judy Chu has served in Congress since 2009 representing California's 32nd district. During her time, she has introduced bills promoting equal access to quality education, eliminating water pollution, immigrant and labor rights, and helping small businesses succeed. Moreover, Judy is a strong advocate for LGBT issues and has participated in the NoH8 campaign. She voted to end "Don't Ask Don't Tell" in 2010. She strongly opposed Paul Ryan's budget plan to end Medicare and voted in favor of the Affordable Care Act, believing in strengthening Medicare.
Tammy Duckworth was previously a Black Hawk helicopter pilot, one of the first women to fly combat missions in Iraq. Her helicopter was hit by a rocket-propelled grenade causing Tammy to lose both her legs and part of the use of her right arm. She was awarded the purple heart for her injuries. However, her injuries did not slow Tammy down. She became director of the Illinois Department of Veterans Affairs and implemented programs addressing post-traumatic stress disorders and improving traumatic brain injury screenings. In 2009,President Obama appointed her as Assistant Secretary of Veterans Affairs where she focused on ending homelessness for Veterans and lead initiatives for female Vets. As an elected congresswoman for Illinois's 8th Congressional district, Duckworth plans to focus on rebuilding American manufacturing, comprehensive immigration reform, and withdrawing troops from Afghanistan.
End of Part 1. Part 2 will later be posted about Mazie Hirano and the representative that replaced her in the House, Tulsi Gabbard! And what does this all mean!